It's officially FALL! Why is it that food carries so much sentimental worth to us? I think that's why I have a problem dieting – I just love the comfort of seasonal foods!
Here's a round-up of 20 amazing fall recipes – guaranteed to bring some nostalgia into your day. A lot of these aren't unhealthy though – so you don't have to feel guilty about making/eating them! Of course, there's some good old-fashioned pies and hot chocolate recipes included (all in moderation, right?)
So grab your boots, oversized sweater, and a cup of hot tea (or a PSL) while you browse through these mouthwatering recipes… (make sure you follow me on Pinterest for lots more!)
There's just nothing better than starting off a chilly fall morning with a warm bowl of steel cut oats. Here's how I make them the night before – then just reheat in the morning! So easy & they taste so good!
I'm all about soups during the fall – such a perfect comfort food! We've made this tomato basil tortellini soup a few times now – and it's SO nice that it takes only about 15 minutes to make:
I shared on my Facebook page that I made this broccoli cheese soup – and LOVED every spoonful of it! Did I mention it doesn't use any cream? Yummm…
I must have made this sweet potato kale & sausage bake at least 10 times last year (and that's saying a lot – I don't like to repeat recipes often!!) Such a perfect weeknight dinner filled with every food that I LOVE:
Speaking of sausage & kale… so excited to try this smoked sausage, kale & cider quinoa skillet – ahh! All of my favorite things in one dish!!
I really really love risotto – it's worth the stirring time! Love this one pot chicken risotto recipe:
Butternut squash & sage – such a perfect fall combination!! LOVE risotto – and love a shortcut even more:
Speaking of butternut squash – woah this butternut squash carbonara looks good:
OK one more butternut squash recipe – YUM to this autumn cous cous bowl:
Movin away from the butternut squash – and onto acorn squash! How delicious do these farro & sausage stuffed acorn squashes look?
Just because it's fall doesn't mean that you can't still have a good salad! This caramelized brussel sprout salad with blue cheese, bacon & caramel apple vinaigrette looks AMAZING:
Ok so this is an old post (AKA – bad photography!!) but this is the most amazing chili & cornbread recipe – it's won every chili cook-off it's ever been in:
One of our other stand-by recipes for the fall/winter months is making our weekly chicken (in our crock pot) and then making homemade broth from it. I promise it's easy – and you'll save so much money!
We can't talk about fall recipes without an amazing apple pie! This apple pie is THE BEST. I will never make another apple pie again – every single one falls short! The topping really makes this one incredible:
You guys – I made these scones and they are even better than the Starbuck's version! DELISH!!
On the lighter side of baking – these healthy cinnamon sugar apple muffins are a healthy way to bake this fall – my one year old was actually obsessed with these!
For another lighter muffin – try these maple pecan banana muffins – it only uses maple syrup as a sweetener … so much better for you:
If you're hosting people at your house, or bringing s dish to a party, you NEED to make this 3 ingredient apple dip. It's always the first to go at a party – and it's SO EASY (no baking)!
For those chilly fall nights – if you're looking for an alternative to regular hot chocolate, you will die over this white hot chocolate with caramel & toffee!! THE BEST:
But for a lighter treat – I can't wait to make this skinny pumpkin spice latte!! YUM!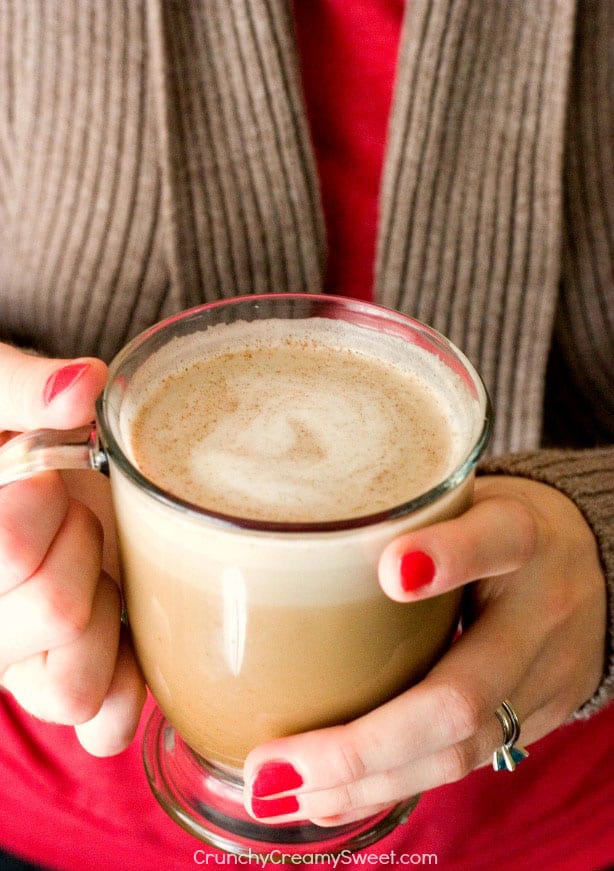 Which one (or ones!) are you excited to try?
Like this post? You'll also like:
1. Banana Chia Coconut Iced Coffee Recipe