I can't wait to share my finished family room with you guys! Since we moved into our house last spring, our family room has gone through various stages. First, we ripped out all of the carpeting (and uncovered a MESS under them). We got someone to refinish our wood floors right before we moved in, and our room looked like this for a little while. When we finally got settled in a little more, I made this wooden frame gallery wall above our couch. It helped to add design to our room, but our room still wasn't quite finished.
I'm finally able to say that our room is DONE – and it's the best feeling!
We still have our gallery wall, but do you notice what's under it? We are so excited to have a brand new & beautiful sectional! I have always wanted a sectional, but didn't think I could fit it in a small space comfortably. I am pleased to say that this sofa is the perfect sectional for a small space – it's a much smaller profile than any other sectionals I saw while shopping. It's called the Foresthill sectional (from Raymour & Flanigan). We were able to pass our couch down to my sister & brother in law for their first apartment, and we feel like we're living in luxury with this new couch!
Not only do we have this amazing new couch, but we also added a super smart AND beautiful coffee table. Let me tell you – when it comes to small spaces, this is so genius!
It unfolds and is double the size! You may think I'm lame for being this excited about a coffee table, but I don't even care. I love it Tucson Flip Top Coffee Table- also from Raymour & Flanigan) It's perfect for entertaining, and I envision it as a great place for Isaac & I to color on when he's a little bit older!
OK so here's what we did with the rest of the room:
I love this little thrift store bicycle – my husband is learning to love it. Ha! LOVE our front door (original to the house)
The gorgeous Vargas Cutwork bowl on the coffee table is also from Raymour & Flanigan
I will show you how I added a little bit of personality to this bookcase in a later post – for right now, just look at how cute this little corner turned out!
(toys are hidden in that thrift store chest under the window – I scored it for $11!)
I'll also be sharing more details about this corner here next week – but here's a little preview of my first homemade piece of furniture:
I'm in love with how the whole room feels – it's an inviting space that is really reflective of our style. We continue to fall in love with the original wood moldings and architecture of our old home, and we always try to bring attention to those features.
(view from our new couch – looking into the living room with my favorite window seat)
Sadly, we said goodbye to our sofa table that used to be behind our old couch, and replaced those lights with this new lamp (shared my excitement about this find here)
rolled bookpage wreath tutorial here
I updated my gallery wall with some fun fall prints (check out my Pinterest to see where they're from) It's now been decorated for all seasons – spring/summer and Christmas!
Pillows made by me – with fabric from JoAnn's
​Just a few before & after pictures to show you how far this room has come: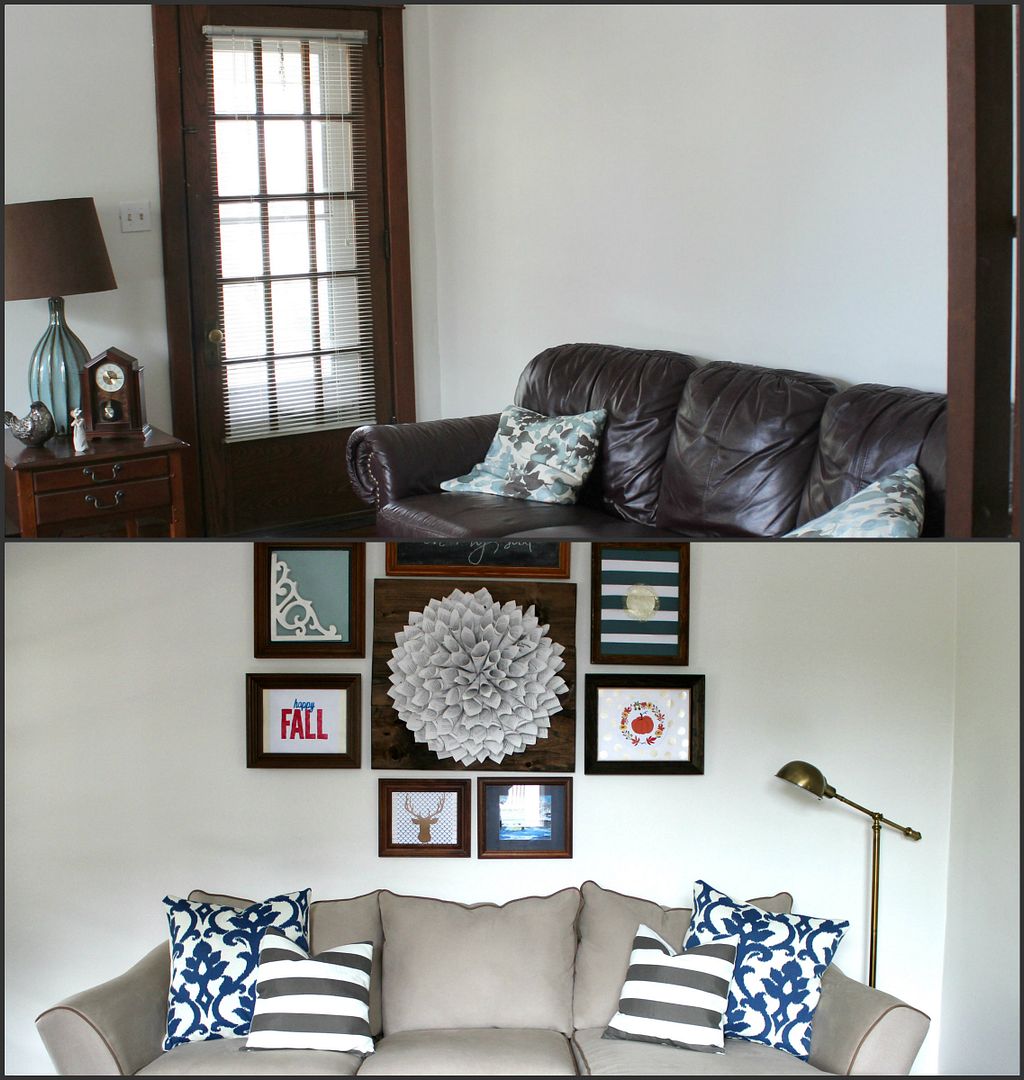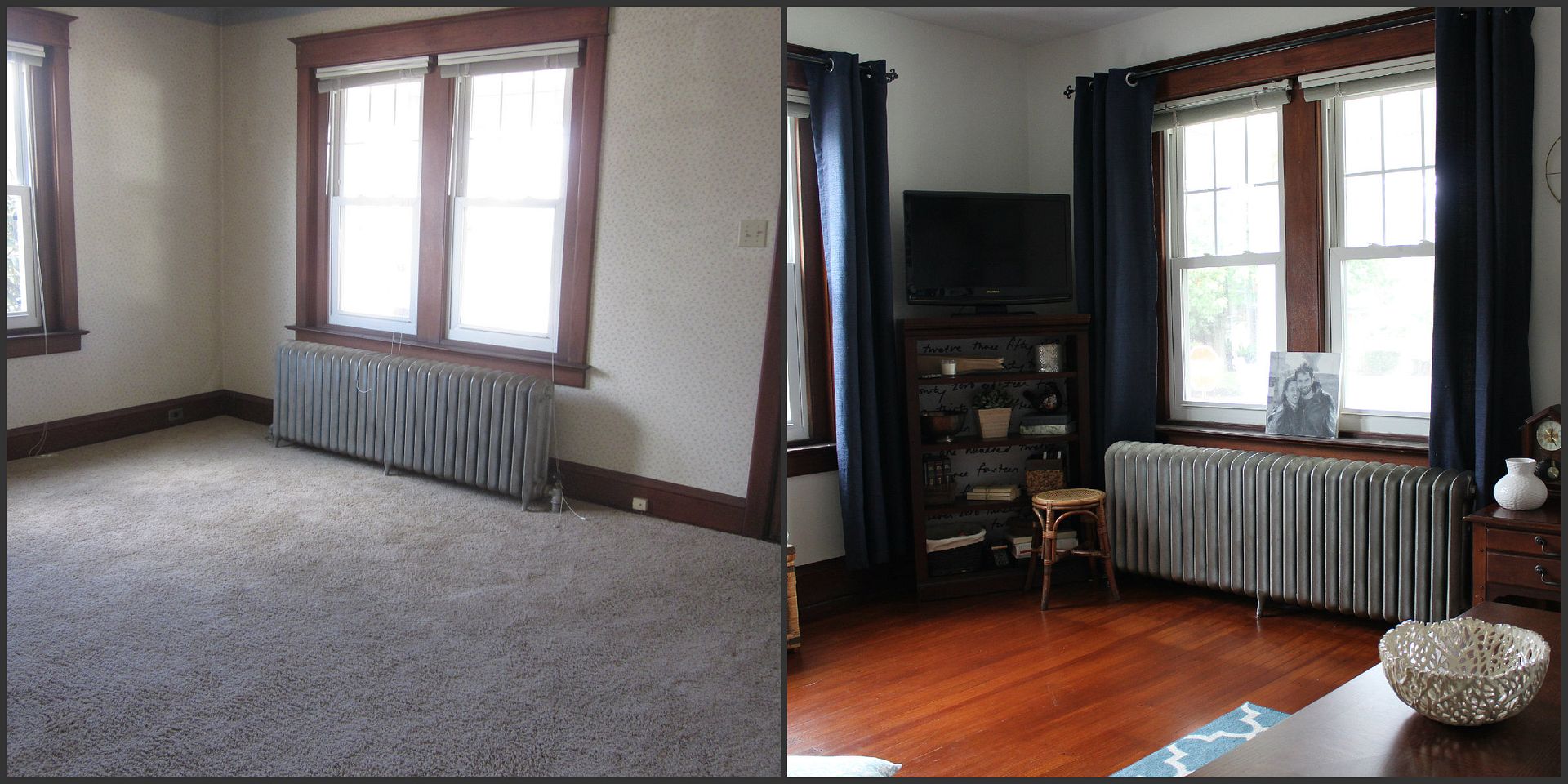 What's your favorite part of our "new" family room? Do you live in an old house as well?
Like this post? You'll also like:
2. What my house really looks like
3. Rolled bookpage wreath tutorial
To get this look and more, visit your local Raymour & Flanigan store, or visit them online at http://www.raymourflanigan.com.
This is a sponsored conversation written by me on behalf of Raymour & Flanigan. The opinions and text are all mine.