Even though I've been decorating & blogging for 4 years already (wow – has it really been that long?) I still find myself redefining my style. And by redefining, I mean changing. All. The. Time. It really drives my husband crazy.
I read such a variety of bloggers with extremely different styles, and I really love all of them in some way! Sometimes I find myself so in love with a certain style that it makes me want to redo my entire house.
Instead of actually redecorating my whole house, I decided to experiment with our little home office area. You may remember that I wrote about what this area looked like a few months ago (I shared a pretty awful "before" picture if you haven't seen it yet…) My goals were to get the space organized & then to look attractive, since this is right in the middle of our living space. The BIG change to this space was the addition of my amazing desk from Sauder Furniture. I truly love this desk, and it's amazing how versatile it is (you can see how perfectly it works with two totally different styles below!) Here's the desk I have in this space.
If you suffer from designing ADD, I seriously challenge you to do an experiment like this! You might end up being surprised with a new style that you might truly love in your house:
Wow – two totally different styles, right? I kind of love the simplicity & modern feel of the black and white space:
We hung these shelves (using pine from the hardware store & brackets just like we did in our kitchen). Lots of the accessories were bought at Target or were things I had on hand:
This was a fun idea – I used plastic placemats in place of a corkboard. Just use washi tape to hang things!
The space is more modern & bold than I'm used to, but I actually felt a little bit sad taking it down:
BUT I kind of missed some color! I decided to go to the other end of the spectrum & make a colorful & feminine office space next:
How fun is this look? It's totally different than the first one, but I really kept the set-up basically the same!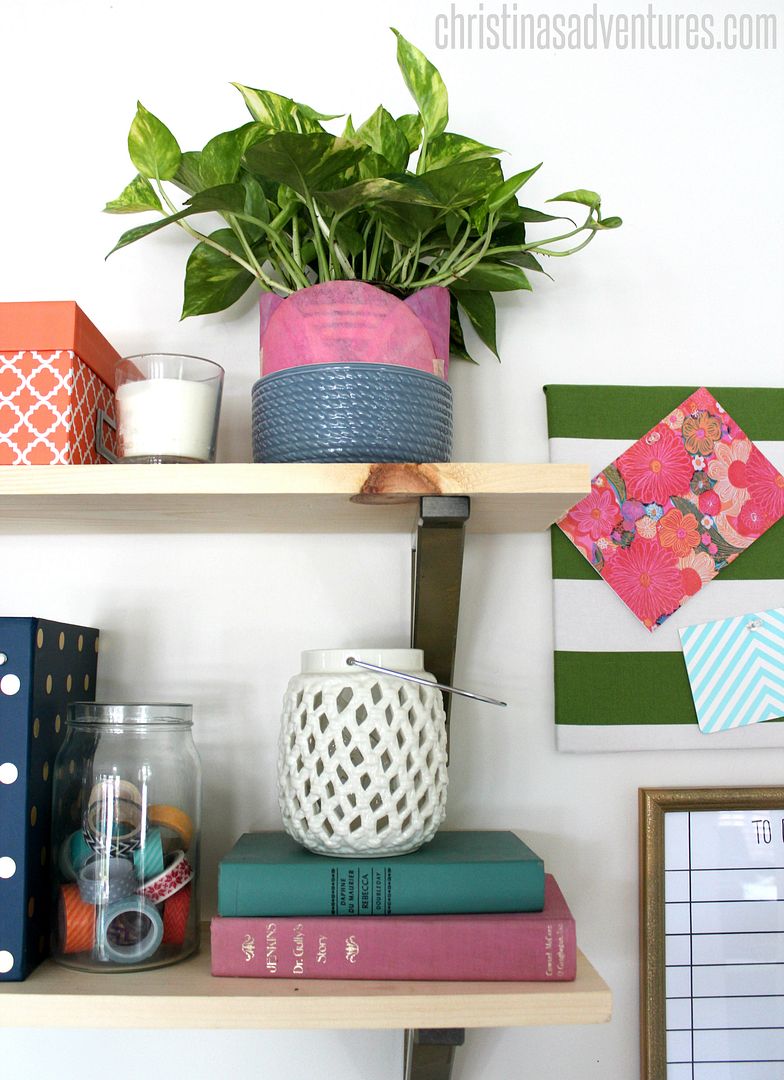 I love the whimsical & fresh feel of this look. It's definitely more color than I typically use!
Again – the fact that I had a super stylish & versatile desk to ground both looks really helped with the whole process! Please go check out all of the other functional, stylish, AND super affordable furniture from Sauder.
I will share the absolute finished space soon, but for now, tell me – which one do you like best? Do you go back & forth between design styles too? If so – try an experiment like this … you might be surprised with what you really end up liking in your own home!
Check out my Pinterest boards all about office space inspiration and my favorite furniture!
Like this post? You'll also like:
1. Home Office: Before & During
2. DIY Kitchen Remodel – 6 months & only $3500
3. How to organize taxes when you're self employed
This is a sponsored conversation written by me on behalf of Sauder. The opinions and text are all mine.