This post brought to you by FrogTape brand painter's tape. All opinions are 100% mine.
I haven't touched spraypaint since I got pregnant last November, and I have been *itching*  to get my hands on it again!  You all know by now that I am a sucker for a good thrifty upcycle – and I was so excited to get back in the spraypainting game with this $1 thrifted trash can turned planter:




So here's the deal  I've loved the chevron trend from the very beginning, but I wasn't convinced it would stick around.  Now that it has stuck around, I have wanted to paint something with a chevron print for a while now, but making my own chevron print just sounds totally tedious and laborious.  I am a very impatient crafter, and I like things done quickly!!  Ain't nobody got time for making their own chevron pattern…that involves all kinds of math and stuff.  Stuff that I just don't have time for 🙂
Enter my new secret weapon- FrogTape® Shape Tape™
I'll admit – I was a little skeptical of this.  I am pretty picky with my painters tapes, and I HATE messy lines.
There is nothing more disappointing than peeling off your tape and seeing that your paint bled through and your lines aren't crisp.  Whomp whomp – so disappointing!  Shape Tape™ has this thing called "Paint Block Technology®" which basically means it forms a seal at the borders of the tape to make sure that you don't have bleeds.
Because this is one of the most satisfying sights EVER:
Ahh.  Seriously.  LOVE that I didn't have even one little bleed on the whole planter!  I was seriously and honestly impressed.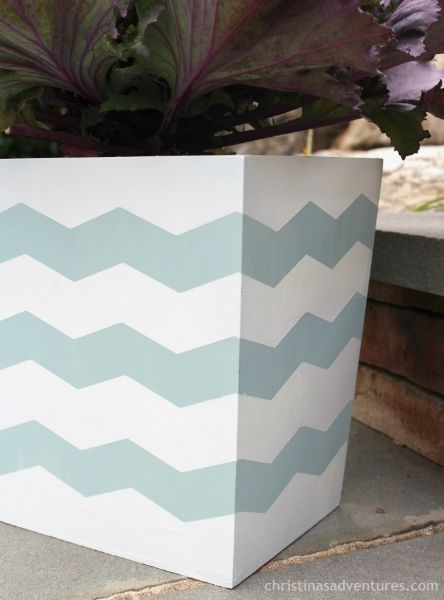 Directions to upcycle your own trash can into a planter:
Clean the trash can
Prime
Paint the color you want the chevron stripes to be on the whole can – let dry.
Apply the chevron Frog Tape® Shape Tape™ (measure between lines)
Spray paint
Remove the Shape Tape™
The other fun part about Shape Tape™ is that it comes in other fun designs – so if chevron just isn't your thing, you might find a different pattern that you love!  Follow @FrogTape for more inspiration…and check out this short video full of great ideas of spaces that use Shape Tape™ as well!