Fixer upper style farmhouse wreaths for all budgets! The best sources to find cotton, boxwood, magnolia, olive branch wreaths (and more!) Affiliate links are included – full disclosure here.
One of my favorite ways to add life to space is through greenery. While I love adding real house plants, it just doesn't work in every space. Wreaths are an easy way to update your space for a very low price tag, and help to add life to any space.
If you're Fixer Upper, farmhouse, Joanna Gaines obsessed (like me!) then you've probably spent some time trying to hunt down the perfect, yet affordable, wreath for your home. Here's my favorite farmhouse wreaths, where to buy them & how to decorate with them:
Farmhouse wreaths:
Cotton wreaths:
Cotton wreaths are SO perfect for farmhouse decor. They work well across all seasons, and just add great texture to any room. I personally love them against a dark wall or a wood surface
You can get them here or find some on Etsy as well. Or click the images to shop these below!

Where to buy magnolia wreaths:
Magnolia wreaths are stunning, but have recently become popular by my all-time favorite Joanna Gaines. You can get lots of variations and sizes on Etsy.
If those aren't in your budget, you can learn how to make your own with this tutorial from Refresh Restyle! Shop some beautiful magnolia wreaths by cilcking on these pictures:

Where to buy boxwood wreaths online:
I will start with my favorite – boxwood wreaths. I have mine displayed in my kitchen year-round. Make sure you get a preserved boxwood wreath so it will last a long time. (more boxwood decorating inspiration here)
I got mine through Amazon, but there's some great options on Etsy and even stores like this one. Or click on the pictures below to shop:

image via Shades of Blue Interiors
Another wreath that will be trending majorly this spring is olive wreaths – I love the neutral texture these bring and I would love displaying them all year long.

Other sources for farmhouse wreaths:
One of my other favorite secret tips is to shop flash deal sites for great deals on wreaths (and so many other things!). These are some of my most favorite (best kept secret) spots to find the best deals:
I can't link to specific wreaths through their site since they are usually only on sale for a few days at a time. But if you subscribe to their e-mails, you should be able to see their deals as they happen!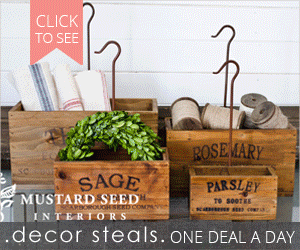 If you like this post, you'll love my other farmhouse inspired shopping guides! Click here to see so many more.
Where to buy farmhouse ceiling fans online:
Where to buy farmhouse wall clocks online:
Where to buy x-back farmhouse chairs online: