21 ideas for decorating over your bed to help you find your style in your master bedroom! All different styles to inspire your home decor – classic, farmhouse, modern, trendy, vintage, eclectic, shabby chic…
If you're anything like me, you put off decorating your master bedroom until allll of the other rooms have been decorated. But doesn't it feel amazing when your bedroom actually reflects your style?
Ideas for decorating over your bed:
Adding something above the bed can really add personality to the entire room. Here's 21 over the bed ideas to get your creativity going:
Sunburst mirrors are perfect for over the bed! This wooden one is gorgeous:
And this one is a little more glam:
Or how about this mirror?
But why stop at one sunburst mirror when you can have multiple mirrors up there?
We added architectural detail with inexpensive pine boards, painters tape & some paint. Add an ampersand in the middle and it's done!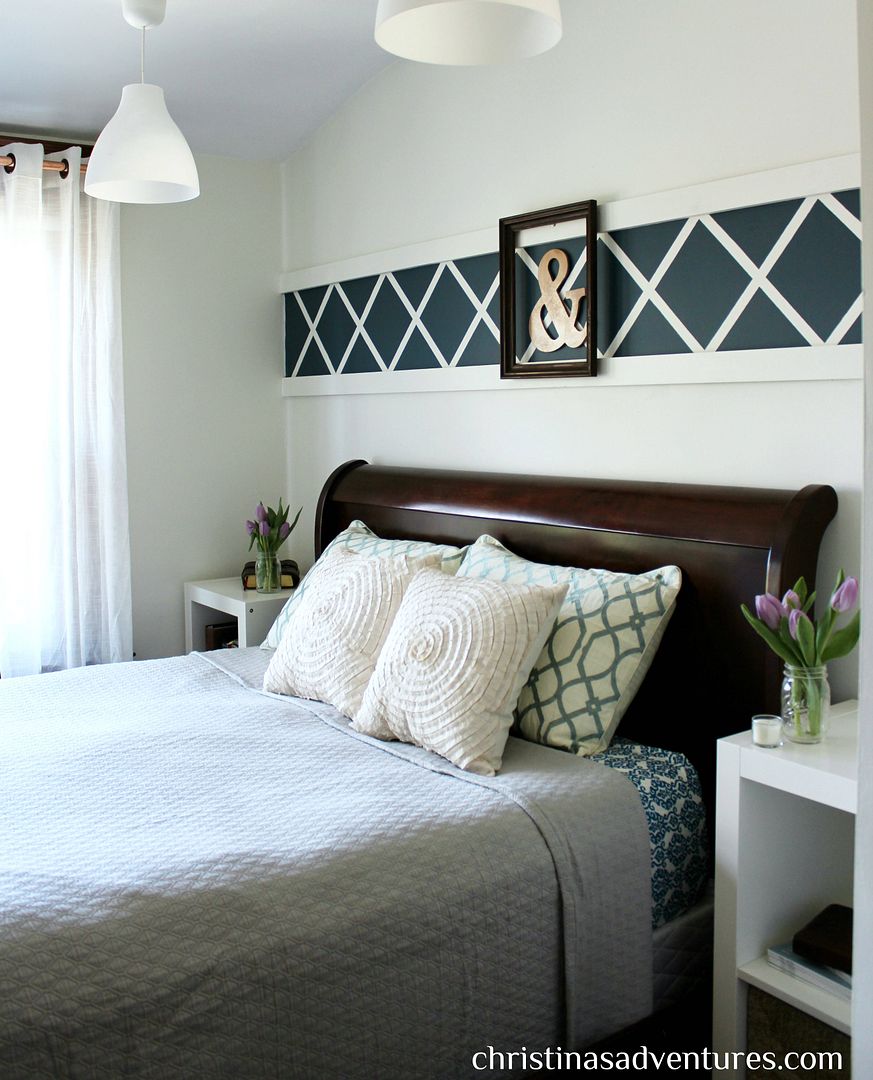 Use curtain rods to hang material over the bed – adding a mirror on top really works with this space:
Chandeliers are also a huge statement. You can go glamorous with a tufted headboard & an elaborate chandelier:
Or hang a wooden chandelier for a more modern look (when paired with bright colors like these):
Do you feel like you can't decorate if you have a window above your bed? Add curtains as a decoration, and a chandelier!
A large number of smaller frames hung by ribbons makes a pretty statement in this bedroom:
I love the idea of layering frames on a shelf instead of hanging them:
Skip the frames altogether and put canvases above the bed:
You can get a little more creative and add something like these glass orbs above the bed:
Or add a unique antique find – like this gorgeous basket:
We made over our farmhouse bedroom and added a tobacco basket above our bed too – come see the whole makeover here:
But why stop at one basket when you can have a collection of baskets?
A collection of colorful plates adds such a punch of color:
My black thumb would be horrible for this, but if you've got a green thumb, you could add plants above the bed!
Or just break all of the rules and spray paint above your bed!
What do you have over your bed? Which is your favorite idea?
If you liked these ideas for decorating over your bed, save it for later and share with others by pinning it here!
Like this post? You'll also like:
2. 14 Kitchen Organization Ideas
3. 18 Creative Ways to use the Space under your Stairs