Warning: unedited, very real pictures of a very ugly kitchen are contained in this post. Viewer discretion is advised.
I KNOW everyone else is posting about Christmas right now – but it's hard to get so excited about Christmas when your kitchen floors look like this:
Without boring you with all the details – we got a flooring guy to refinish our floors while we moved into my parent's house for a few days. It was supposed to take 4 days. After THREE WEEKS, we realized that the flooring guy wasn't coming back (after calling/e-mailing every day and even going to his HOUSE to contact him!!). So now we're stuck with our sub-floor that has some holes in it and random nail heads sticking out (thank goodness Isaac isn't crawling yet!!) We're going to get someone else to finish the job – after Christmas. I want to get our tree and start decorating for our first Christmas in our new house!
But until then, I'll continue planning out what our kitchen should look like – in due time. We're taking this remodel slow…as we get time, money, and energy different projects will get finished.
Before we saw this house in person, I thought the kitchen would be the deal breaker. I thought it was just way too small and couldn't possibly work. BUT when I saw it in person, I realized that yes it was very small, and yes it was very ugly, but it had potential. It's never going to be a perfect kitchen (we'd need to completely gut it to make it better) but we're going to work really hard to open up the space on a shoestring budget.
Here's what it looked like when we moved in:
Mmmm – love all of that BROWN (gag). Here's what it looked like when you're looking from the inside of that square above:
Right before we moved in, I removed some of the cabinet doors and painted the insides so we took away just a little bit of the BROWN. I also painted the top of the cabinets and we put in some IKEA light fixtures. Just very temporary fixes so we could live with it for a few months.
…and on the other side – our totally messy table that gets used more as a dumping ground:
First on the renovation list: refinish the floors. We found out that we have the same original subfloor under the ugly laminate and carpet that is in the rest of our house (remember when we refinished the rest of our floors?) So the plan is:
some of my inspiration: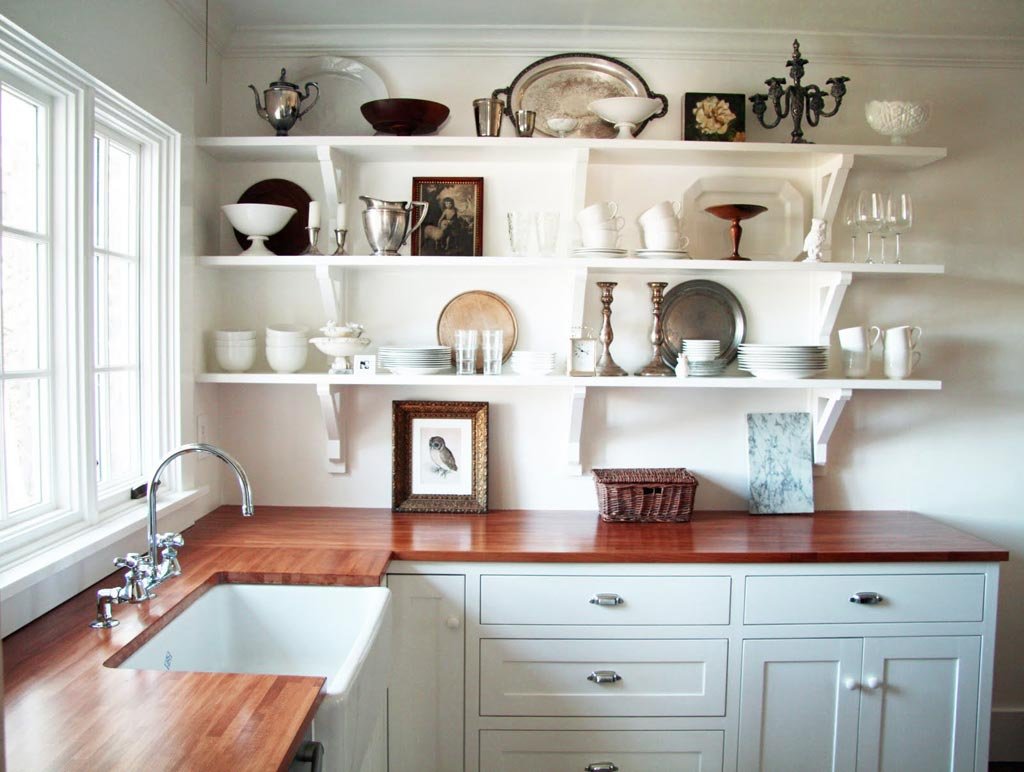 There's SO much to do, and my vision has already changed about 823746 times. But I think I've honed in on those major concepts above, and I'm pretty excited about it! Again – we'll be hacking away at this makeover as we have time, money and energy. It will take a long time! But I'm confident it will all be worth it
Do you have an old ugly kitchen in need of remodeling? What's the weirdest thing you've seen in an old kitchen?