Easy to follow tutorial for how to make a DIY radiator cover. This is a project that can be done in a day, but can really make an impact on any space. This post brought to you by Elmer's ProBond Advanced. All opinions are 100% mine.
I am completely in love with our kitchen transformation – but there was one corner that I left out of all of the pictures. Our radiator sits in the back corner of our kitchen, and takes up valuable space. I really didn't have a problem with how it looked, but realized that the space could be used a lot more efficiently if we had a radiator cover that doubled as another surface.
How to make a DIY Radiator Cover:
I can't believe I didn't do this sooner – I am in LOVE with this little corner now, and it makes the room seem truly finished now!
This was a weekend project, and cost us around $100. Not too bad for this transformation! We did our own version of this tutorial – it was super helpful.
Materials needed for this project (affiliate links included)
MDF
Aluminum sheeting
Trim molding
Miter saw (this is the one we own & love)
Staple Gun (I thought these were expensive- totally not!)
Elmer's ProBond Advanced
Poplar board (this is important- it's the best kind to withstand the heat from the radiator)
Paint, wood stain, polyurethane
We measured out the area around the radiator, making sure to add 2-3 inches all around for appropriate air flow. We had our local hardware store cut down MDF for the front and the sides of the cover. Once we got it home, we marked out a 4 inch frame and little "legs". Then we drilled pilot holes and used a jigsaw to cut out the inner square:
Now it was time to add the pretty aluminum sheeting to the middle of the MDF frame. I used Elmer's ProBond Advanced to adhere the metal to the MDF – it's perfect for this kind of mixed material project. It's heavy duty and will hold up really well with the radiator heat during the winter.
I used a few staples from my staple gun to clamp the aluminum to the MDF – and it's now super solid. We also added two pieces of scrap wood to the back of the frame to make a fourth side.
Once the sheeting & the back was in place, we cut trim molding down to fit inside the MDF frame. This really gives it a more finished look. I filled in the imperfections with wood filler: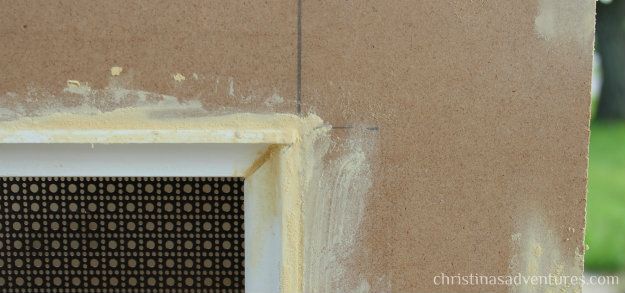 After a few hours, I hand-sanded the wood filler and the sides of the MDF
I then rolled 3 coats of white paint onto the cover, and we put it into place.
It fits perfectly!
Then I added stained poplar wood to the top & a piece of sheet metal to the back to radiate the heat out into the room: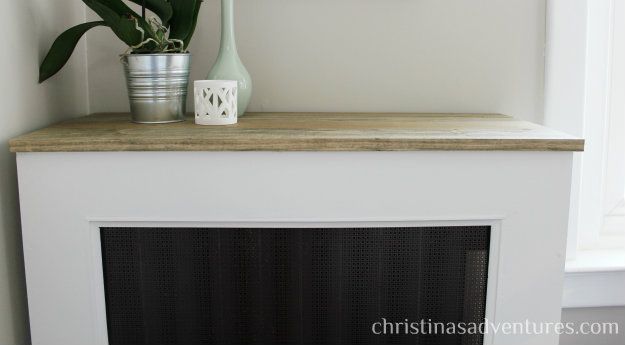 Then I stood back & admired this pretty little corner:
I'm honestly in love with it, and I can't believe I didn't do this sooner! Now I want to cover every radiator in our home!
I love the difference & added functionality of this space now: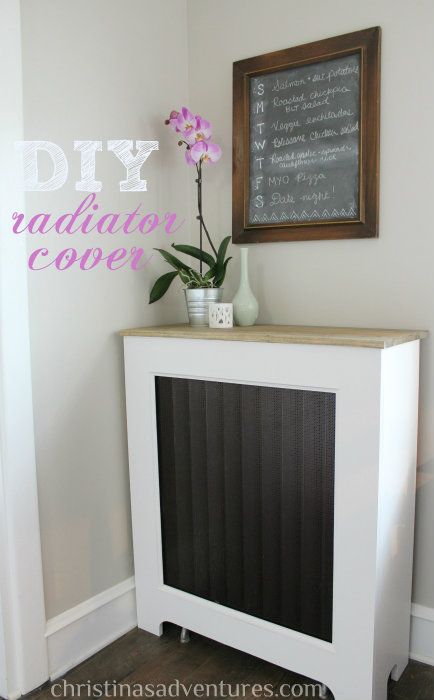 Like this DIY radiator cover tutorial? Click here to pin it, save for later and share with others!
Like this post? You'll also like:
1. DIY craftsman kitchen before & after
2. DIY architectural detail above the bed