Great inspiration for how to decorate with mason jars in your home. Lots of DIY projects and easy ideas anyone could do!
If you've been following my blog for some time now – you know it's not a secret that I *love* any project that uses mason jars in new and unexpected ways. Now that we're heading into the warmer months, yard sales will start to be in full swing again. I have found these canning jars for literally pennies (or even free) at yard sales – so here's a round-up of 10 of my favorite ways to use mason jars:
1. Mason jar herb planter via Not JUST a Housewife:
2. Make your own soap dispenser (Heather Bullard):
3. Kid-friendly craft: Mother's Day Vases
4. Make your own oil lantern via Raised in Cotton:
5. Organize bathroom essentials (Liz Marie )
6. Outdoor mason jar decorations:
7. School supply storage (the labels just make it that much cuter!) via Etsy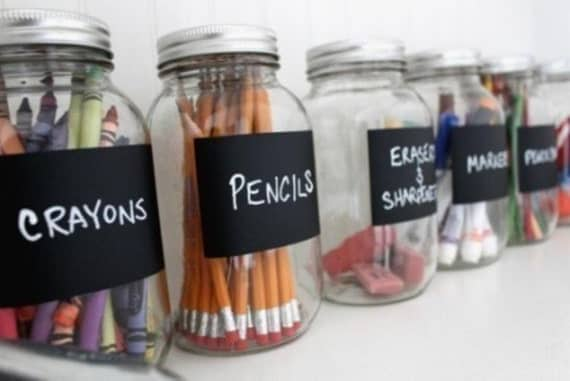 8. Party drinks
9. Sewing kit in a jar (via Martha Stewart):
What are YOUR favorite ways to re-purpose old jars?